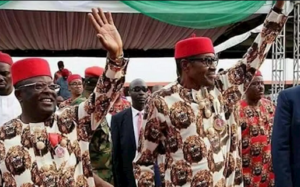 Governor Umahi's defection to nothing.
Author: Nseyo Ibekwe.
Two days ago, Gov Umahi of Ebonyi defected from PDP to APC. Some observers are of the opinion that this is part of his larger agenda to prepare to grab the Presidential ticket of APC come 2023.
Having lived in the North for some years now, I have analysed the mentality of typical Northerners and discovered that they have not yet detoxified themselves of the suspicion associated with an Igbo Presidency. The assassination of Sadauna and other northern Leaders during the 1966  Chukwuma Kaduna Nzeogwu  led coup,  the separatist move of Ojukwu to create the Republic of Biafra that resulted in the civil war and the current agitation of IPOB under the leadership of the sinister  Nnamdi Kanu  are issues that combine to cast a dark shade of suspicion on an Igbo Presidency on the minds of the northerners. The North in my opinion does not want to joke with the Unity of Nigeria and I think it will take up to another 16 years of healing and abandonment of the separatist moves by the Igbos to assuage the northerners to cooperate for the south east to produce a Nigerian President. For me ,Umahi's defection from PDP to APC with the intention of becoming a Nigerian president come 2023 can simply be described as  a defection to nothing.