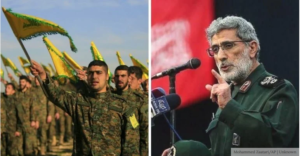 Iran's Quds Force Commander Warns Nasrallah Not To Provoke Israel
On Monday, local media reported that the commander of Iran's Quds Force, Esmail Qaani, was in Lebanon recently to secretly meet with Hezbollah's Secretary-General Hassan Nasrallah.
Qaani, who succeeded Qasem Soleimani, reportedly warned Nasrallah not to "provoke Israel" and also told him to stay on high alert about developments in the region.
He told Nasrallah not to take actions that would give Israel a reason to launch a major operation.
Days ago, an attack killed an Iranian nuclear scientist, Mohsen Fakhrizadeh, near Tehran. Soon after, a senior commander of Iran's Revolutionary Guards was killed in a drone strike on the borders of Iraq and Syria.
According to Al Jadeed, Qaani's visit to the southern suburbs of Beirut was part of a larger tour that included Syria and Iraq and took place before the assassinations mentioned above.
After the attack on Fakhrizadeh, Lebanon's Foreign Ministry has urged self-restraint to "avoid the slide towards the worst scenario in the region."
Additionally, Qaani also reportedly visited Iraq recently to warn his allies to "avoid provoking tensions with the U.S. that could give an outgoing Trump administration cause to launch attacks in the U.S. President's final weeks in office," reported Naharnet.