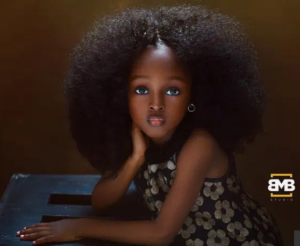 Nigeria's 'Most Beautiful little Girl in the World' Jare Ijalana.
Sometimes around 2018, a modest Nigerian family identified as the Ijalana's woke up to the news that forever changed their lives and sealed their names in the hearts of many after a 5-year-old member of the family, along with her 9 and 7-year-old sisters took the entirety of the internet community with their pure and innocent beauty.
Many news outlets reported that little Jare is perhaps the 'most beautiful girl in the world' after a solo photo of her without her sisters made the rounds on social media.
The photo impressed so many people that it shot the little girl, her older sisters and her whole family into the limelight.
Now, when the buzz around the news seems to be settling a bit,  little Jare Ijalana was invited on October 2020 to London Fashion Week to walk the runway with other models. The light of the Lord is indeed shining on little Jare and her family.